CALIFORNIA BICENTENNIAL 1769-1969
$17.00
Country: US. State of California
Date: 1969
Currency: NA
Image:  California grizzly Bear was much like the grizzly bear of the southern coast of Alaska. In California, it was particularly admired for its beauty, size and strength.
Material: Bronze, moderate relief
Measurement: 1.526 in.. 38.75 x 3.00 mm
Your bronze medal will arrive with a bronze-tone metal stand and the California Gold Centennial /Sutters Mill  1948 USPS 3c mint unused postage stamp below.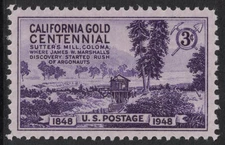 Description
There is much conflicting history regarding the subject of the dates identified that I hesitate to offer any of it here. The dates are question and so is the subject as it is not date supported.
But any way , this Bronze Medal is attractive and say that it honors one of the greater inhabitants of California.
The Bear Flag is the official flag of the U.S. state of California.The precursor of the flag was first flown during the 1846 Bear Flag Revolt and was also known as the Bear Flag.