Leonardo DaVinci – "Concept Of Manned Flight"
$43.00
Silver Medal |.86oz |24.22g |1.50in |38.19 x 3.10 mm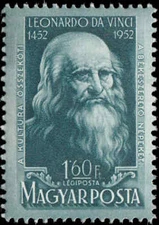 Your silver medal will arrive with a silver-tone metal stand and the 1952 original mint unused 1.60 F postage stamp appearing above.
Description
Da Vinci seemed truly excited by the possibility of people soaring through the skies like birds.
One of da Vinci's most famous inventions, the flying machine (also known as the "ornithopter") ideally displays his powers of observation and imagination, as well as his enthusiasm for the potential of flight. The design for this invention is clearly inspired by the flight of winged animals, which da Vinci hoped to replicate. In fact, in his notes, he mentions bats, kites and birds as sources of inspiration.
Perhaps the inspiration of the bat shines through the most, as the two wings of the device feature pointed ends commonly associated with the winged creature. Leonardo da Vinci's flying machine had a wingspan that exceeded 33 feet, and the frame was to be made of pine covered in raw silk to create a light but sturdy membrane.
The pilot would lie face down in the center of the invention on a board. To power the wings, the pilot would pedal a crank connected to a rod-and-pulley system. The machine also had a hand crank for increased energy output, and a head piece for steering. As the busy pilot spins cranks with his hands and feet, the wings of the machine flap. The inspiration of nature in the invention is apparent in the way the wings were designed to twist as they flapped.
Unfortunately, as da Vinci himself might have realized, while the flying machine may have flown once it was in the air, a person could never have created enough power to get the device off the ground.
Related Products
You've just added this product to the cart:

Warren G. Harding (1865-1923) 29th President of US

Warren G. Harding (1865-1923) 29th President of US

The 29th President of the United States from 1921 until his death of a heart attack while at a speaking engagement in 1923. He was once during his administration considered one of the most popular U.S. Presidents, but the subsequent exposure of scandals that took place under his administration such as Teapot Dome eroded his popular regard, as did revelations of an affair by Nan Britton, one of his mistresses. In historical rankings of the U.S. Presidents, Harding is often rated among the worst.

Material: Bronze

Diameter:1 1/8″  28.50 mm

Add a Stand to your purchase that will enhance the presentation of your Medal.

$

11.50