ADAM AND EVE -First Man and Woman
$39.00
1975 Bronze Medal
9.115 oz |3.50″| 90.00 x 7.00 mm
Description
Nudes Vatican Museum Sistine Chapel by Michael Angelo 1475
1975 Bronze Medal Expulsion From Eden Of Adam and Eve
The Sistine Chapel is one of the greatest artistic achievements of all time, a must-see for anyone visiting Rome. In the Sistine Chapel you will discover the revolutionary ideas of the Renaissance, learn about the historical context of the art, and what influenced and inspired the great artists of the time.
When you enter the chapel it can be difficult to know where to look, as it seems as though every inch of the ceiling and walls is swarming with the figures of saints, demons, and everyone in-between. Frescoes include Botticelli's Stories of Moses, Perugino's Stories of Jesus, and Michelangelo's legendary ceiling.
The Fall and Expulsion from Garden of Eden, is depicted in the large field of the vault of the second bay, between the triangular spandrels.
Your or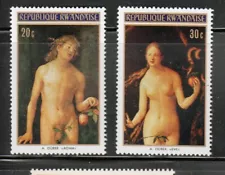 der will include the rare medal that you ordered , a bronze-tone medal stand and the above featured Stamp of Adam & Eve Nude Painting by Durer.
Related Products
You've just added this product to the cart:

TEMPTATION Of SAINT ANTHONY Painting by Salvator Dali 1904

TEMPTATION Of SAINT ANTHONY Painting by Salvator Dali 1904

Bronze Medal by A.R.-A.V. \3.00 oz\ 2.70 in \69.00 x 5.00 mm \

         Salvator Dali           Walt Disney 

Your Medal purchase will arrive to you along with a bronze-tone metal stand ( not the one pictured in the gallery), and the above unique, rare collectible Sheet which is old and typically used to place over the seal of an envelop. 

$

43.00